Avue Digital Services, the premier native federal enterprise HR platform, is certified by the Office of Personnel Management, the Office of Management and Budget, and the General Services Administration as a Private Sector Human Resources Line of Business (HRLoB) Shared Service Center (SSC).
Avue is a federal off-the-shelf application. All functionality, database content, rules engines, reporting, and hosted services were created specifically by Avue to serve federal agency HR and HCM activities and functions in an increasingly digital and social world.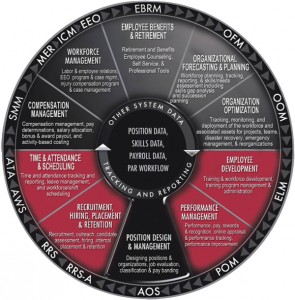 Avue's flagship solution, as portrayed in the Avue Atlas®, is a completely integrated suite of native Web modules that digitize, automate, optimize, track, monitor and report on the most important workforce management processes, including position management, compensation management, organizational architecture, individual and enterprise performance optimization, talent acquisition and staffing, workforce forecasting and succession planning, personnel security and background investigations, management-employee relations, equal employment opportunity, injury compensation, enterprise learning management, and employee life cycle management.
The Avue Atlas® shows the functional areas covered by the Avue platform.  Each wedge corresponds to an acronym in the black band on the outer rim.  Each acronym is a module.  At 6 o'clock on the Avue Atlas®, is AOS – the Avue Operating System – which is a key infrastructure component to the platform.  It includes the center circle, forming a keyhole.  This module is the only required module in the platform.  All other modules are acquired and activated based on client need.  Two other Avue modules are used my most Avue clients – hence, along with AOS, often referred to as the "core three" – the Recruitment, Retention, and Staffing Module (RRS) and the Avue Command Center  Online Reporting and Decision Support Module (ACC).   RRS is the center of the talent acquisition functionality of Avue and includes on-boarding new hires and new employee orientation as well as off-boarding.  ACC represents the ultimate in enterprise-wide visibility on business operations for executive decision-support. The objective of ACC is to provide truly actionable information, rather than data, to line and senior managers at all levels of the organization.  ACC provides visibility at the granular level all the way up to the truly big picture.