Crossing the Chasm
Restoring Your Agency's Human Capital Management Program, Hiring Authorities with the R3+P Program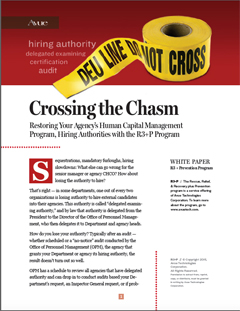 Sequestrations, mandatory furloughs, hiring slowdowns: What else can go wrong for the senior manager or agency CHCO? How about losing the authority to hire?
That's right — in some departments, one out of every two organizations is losing authority to hire external candidates into their agencies. This authority is called "delegated examining authority," and by law that authority is delegated from the President to the Director of the Office of Personnel Management, who then delegates it to Department and agency heads.
How do you lose your authority? Typically after an audit — whether scheduled or a "no-notice" audit conducted by the Office of Personnel Management (OPM), the agency that grants your Department or agency its hiring authority, the result doesn't turn out so well.
OPM has a schedule to review all agencies that have delegated authority and can drop in to conduct audits based your Department's request, an Inspector General request, or if problems occur that catch the attention of OPM. OPM is the sole arbiter of this delegation and can provision or revoke the authority based on its determination of the agency's HCM program fitness and record.
Download the complete white paper here.
Innovative Federal Hiring
Leveraging process modernization, technology, and innovative practices to create effective, efficient, and engaging hiring processes for the federal government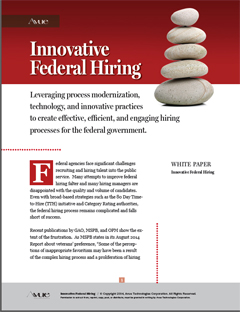 Federal agencies face significant challenges recruiting and hiring talent into the public service.  Many attempts to improve federal hiring falter and many hiring managers are disappointed with the quality and volume of candidates.  Even with broad-based strategies such as the 80-Day Time-to-Hire (TTH) initiative and Category Rating authorities, the federal hiring process remains complicated and falls short of success.
Recent publications by GAO, MSPB, and OPM show the extent of the frustration.  As MSPB states in its August 2014 Report about veterans' preference, "Some of the perceptions of inappropriate favoritism may have been a result of the complex hiring process and a proliferation of hiring authorities, which can invite misunderstandings and provide opportunities for suspicion."
GAO states, in its July 2014 report that, "Almost since its inception in 1949, questions have been raised about the GS classification system's ability to keep pace with the evolving complexity and nature of federal work."  The classification system, as with other personnel management processes that affect recruitment, drives the qualification requirements used by agencies in recruiting talent.
OPM, addressing agency frustration with extremely high volume of candidates for each job posting, is quoted in a Baltimore Sun article stating "demand is high for federal jobs and agencies are experiencing a significant increase in the number of applications, which may not necessarily produce more qualified candidates."  This is why the practice of limiting the number of applications per job posting is rising.  OPM endorses this practice "depending on their need for qualified applicants and the number of job openings."
The Partnership for Public Service (PPS), in its May 2014 report states that, "Another challenge relates to struggles with the hiring process. Higher than average turnover, rising workloads and tight budgets highlight the importance of making sure that the people agencies hire are exceptionally well matched to jobs, but CHCOs report that this is not consistently the case."
The challenges of federal hiring are clearly on the minds of policy makers and human capital leaders.  To date, process improvements have faltered or failed – so much so that OPM has even revised the TTH reporting requirements substantially.
Download the complete white paper here.
The Dangers of Overriding Veterans' Preference by HR Specialists
The Agency Is at Risk and the Applicant's Standing is Adversely Affected
By Linda E. Brooks Rix, Avue Co-CEO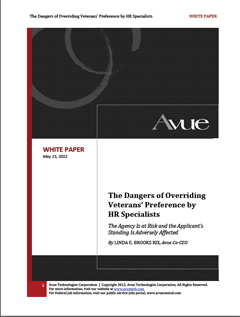 Herbert Russell, a U.S. Army veteran from Charlotte, N.C., served his country honorably and upon discharge received compensation for service-related disabilities at 30 percent, and with it a 10-point veterans' preference when applying for most federal positions.
In October 2010, Russell noticed a job vacancy with the Department of Health and Human Services and applied through the agency's QuickHire system, which required applicants to fax any supporting documents to the agency. QuickHire seemed reliable. It created a separate coversheet for each document faxed, and each coversheet held a barcode specific to the applicant, the job vacancy and document type. The faxes were received by QuickHire and filed electronically.
Russell knew as a 30-percent compensable disability veteran he was entitled to the 10-point veterans' preference and dutifully faxed the required letter and documentation from the Department of Veterans Affairs.
What Russell was not told, either by the QuickHire system or HHS, was that sending an additional fax with the same barcode would erase his initial fax, the DD Form 214 from the VA — a "Certificate of Release or Discharge from Active Duty". His second fax, a copy of the federal Standard Form (SF) 50-B detailing his previous work for the federal government as a 30-percent disabled veteran, overwrote the DD Form 214.
Here begins the cautionary tale of the hazards of overriding veterans' preference.