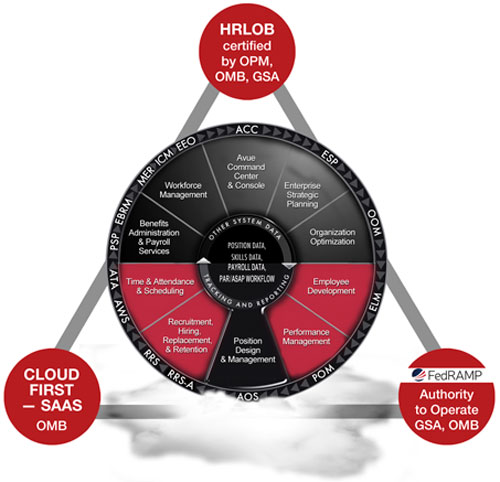 The Avue flagship solution is a completely integrated suite of native Web modules that digitize, automate, optimize, track, monitor and report on the most important workforce management processes. Avue's track record is unrivaled for security and reliability, and …
… the AVUE Platform Meets ALL Cloud, Security, and HCM Requirements.
That means when your agency partners with Avue, your agency carries the peace of mind of being Avue Cloud Complete for all of Avue's services and modules.
Here's why Avue is the right choice for your agency HCM.
---
1. HR LOB
"The HR LOB common solution takes a phased approach to delivering HR services through shared service centers based on a common, reusable architecture that leverages open architecture concepts. … The HR LOB common solution will enable a shift in emphasis within the agencies from administrative processing to customer service and strategic planning."
—Feb. 20, 2009, OPM Human Resources Line of Business Report
Avue was first to be certified by OPM, OMB, and GSA
as an HR Line of Business, Private Sector Shared Service Center
2. CLOUD FIRST
"Consistent with the [OMB] Cloud First policy, agencies will modify their IT portfolios to fully take advantage of the benefits of cloud computing in order to maximize capacity utilization, improve IT flexibility and responsiveness, and minimize cost."
— Feb. 11, 2011, Federal Cloud Computing Initiative, Cloud First Policy, OMB
Avue was first to offer a SaaS Federal HCM Platform
in the Cloud, back in 2001
3. FedRAMP
"Each Executive department or agency shall … Ensure that acquisition requirements address maintaining FedRAMP security authorization requirements …," applicable to agencies procuring commercial and non-commercial cloud services that support the operations and assets of the agencies.
— Dec. 8, 2011, Memorandum, Security Authorization of Information Systems in Cloud Computing Platforms, OMB
Avue is first and only certified Federal HR LOB platform
approved as FedRAMP Compliant
---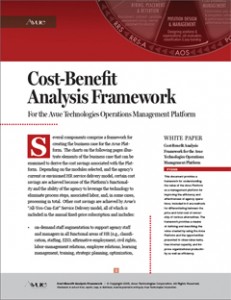 Avue's Holistic Approach to Enterprise-Class Technologies
Software-as-a-Service and the Avue Solution
Avue's Adherence to Federal Regulations, Standards and Policies
Total Cost of Ownership: The Only Meaningful Price and Value Analysis
The Total Cost of Talent Acquisition
Free Download: Avue Cost-Benefit Analysis Framework
Free Download: Contracting With Avue
---
CERTIFICATIONS AND AUTHORITY TO OPERATE PROVIDED BY

---
Avue Cloud Compliance — The Fastest and Easiest Way
for Your Agency to Embrace the Cloud
Contact Us at 253-573-1877 or avueinfo@avuetech.com